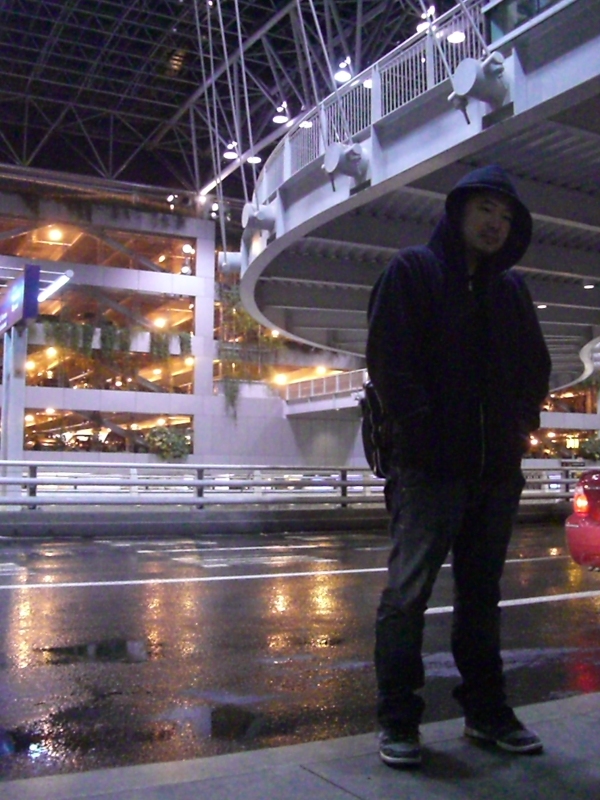 A really good friend of mine Mark Fatlace (Nike) called me and told me to fly to Oregon...
I had to convince the magazine, book photographer, buy airplane ticket, reserve hotel room, cancel meeting, but I made it to Portland!
First impression of Portland was, it's very clean!
and cold...
Nikeに勤める親友マークから呼ばれたので、Nike本社のあるポートランドへ。
初ポートランド、初オレゴン州。
第一印象はとても綺麗。 
そして寒い。
緯度を調べたら、青森くらいなんだね。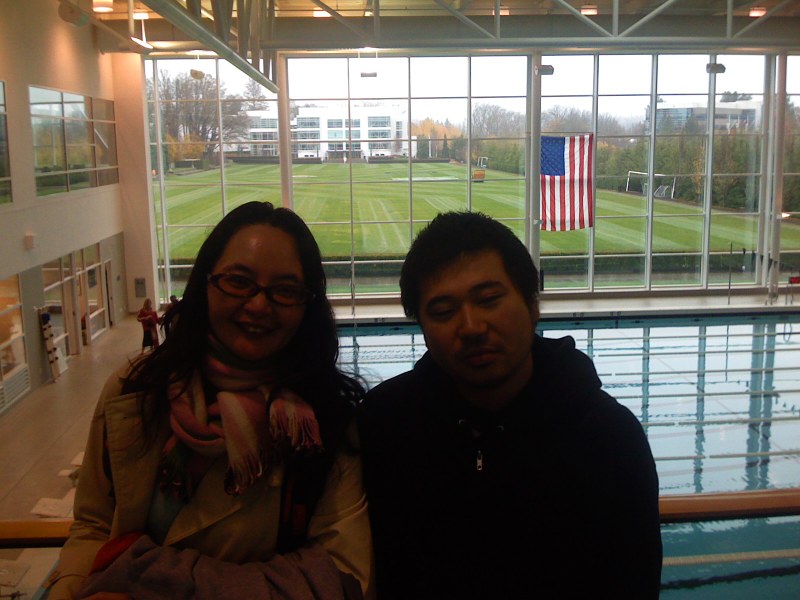 Jeanne was so nice that she walked around campus and showed us around.
It was nice meeting you and very fun talking to you Jeanne!
The building you see behind is Tiger Woods building, and Manchester United plays in that soccer field.
Jeanneがキャンパス(本社敷地内をそう呼ぶ)を案内してくれました。 後ろに見えるサッカー場はマンチェスターユナイテッドもプレイした事があるんだって。 その後ろに見えるのはタイガーウッズビルディング。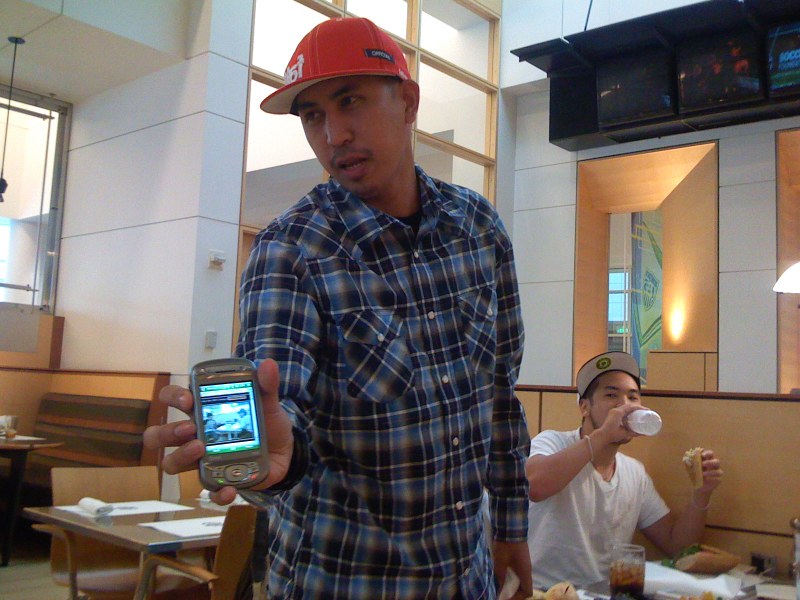 Formula D driver Al happened to be there as well. We had a lunch together.
Al is showing me how he can update his blog using the picture he just took by his phone. I cannot keep up with high-tech stuff...
友達のフォーミュラDドライバー、Al もたまたま来てたので、一緒にランチを。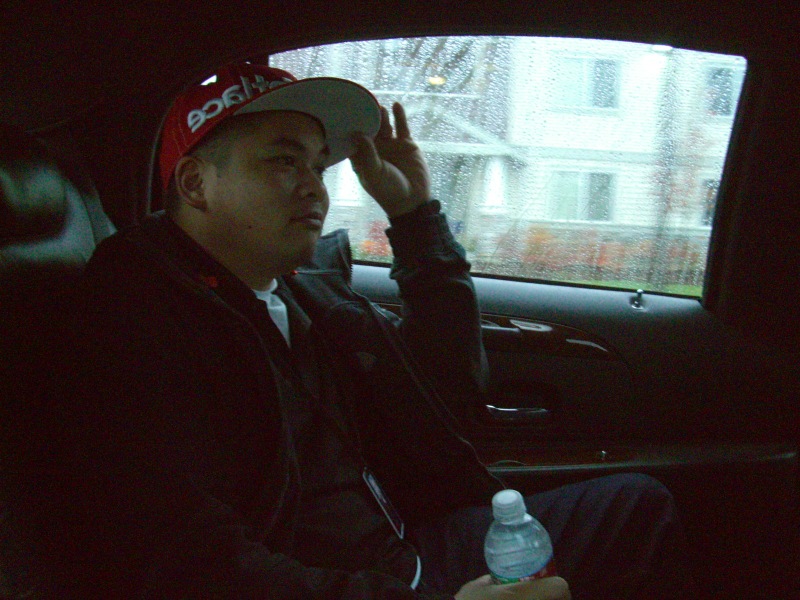 I interviewed Mr. Sandy Bodecker (VP of Nike).
He was so nice.
He was so inspirational.
This is going to be a must-read article in January Issue of Daytona magazine (on sale on December 6).
I have to go back to Nike again soon. I want to go back there soon.
Everyone at Nike looked so happy, so creative minded, enegizing, and having fun.
Mark took us to PDX(airport in Portland) by limosine, so I can make it to my own birthday party in Hollywood.
Thank you so much for everything Mark. I'll talk to you soon.
ナイキの副社長、Sandy Bodecker氏にインタビューさせてもらいました。
なんて素晴らしい人なんだろう……
感動しました。 インスピレーションを受けました。
まず、人として素晴らしい。 
そして、会社(ブランド)、アスリート、社員、さらに世界の恵まれない子供たちや環境のことも考えている。
これはインタビューだからそう言っているんじゃなくて、氏が心からそう思っているってのがわかった。
うわべだけじゃない、本当に素晴らしい人でした。
最後はマークがリムジンで空港まで送ってくれました。 2時間後にはハリウッドでパーティーが……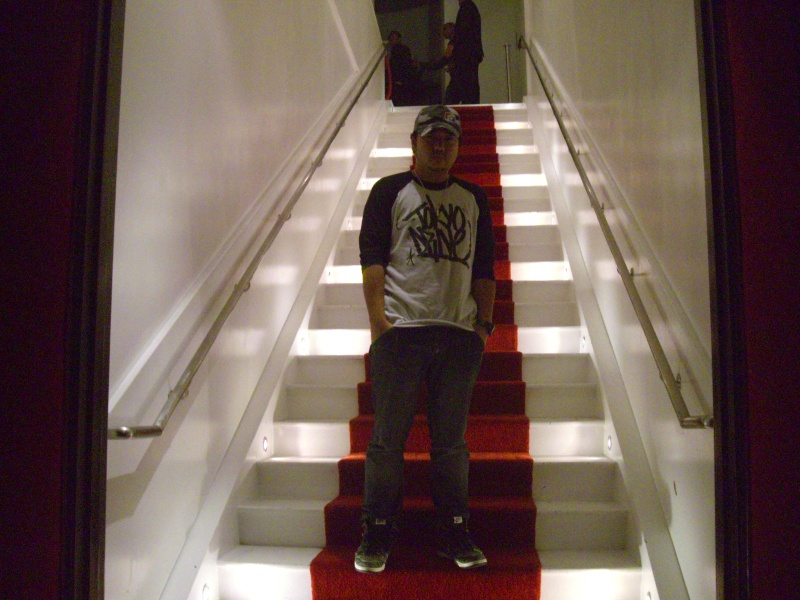 2 hours later, I was in Hollywood.
I was supposed to go to the club straight from LAX, but I went home and worked for a while, because I didnt want to forget what Mr. B said.
Eventhough I took memo and recorded the inteview on IC recorder, I wanted to work when I still remember the moment.
I am sorry to my friends that were waiting for me at the party (well, they've been drinking so its ok...), but I just wanted to start writing the story. Mr.B inspired me a lot... I think I met one of those people that makes me feel I want to be like him/her!
本当はロスの空港からそのままタクシーでハリウッドのパーティー会場入りするはずだったんですが、一度ウチに帰りました。 
それは、すぐにテープ起こしをして、原稿を書き始めたかったから。 
実際には少し時間がたったほうが頭が整理されて原稿は書きやすい。 だから、とりあえずテープ起こしをして、インタビュー時の感動やモーメントを思い出す。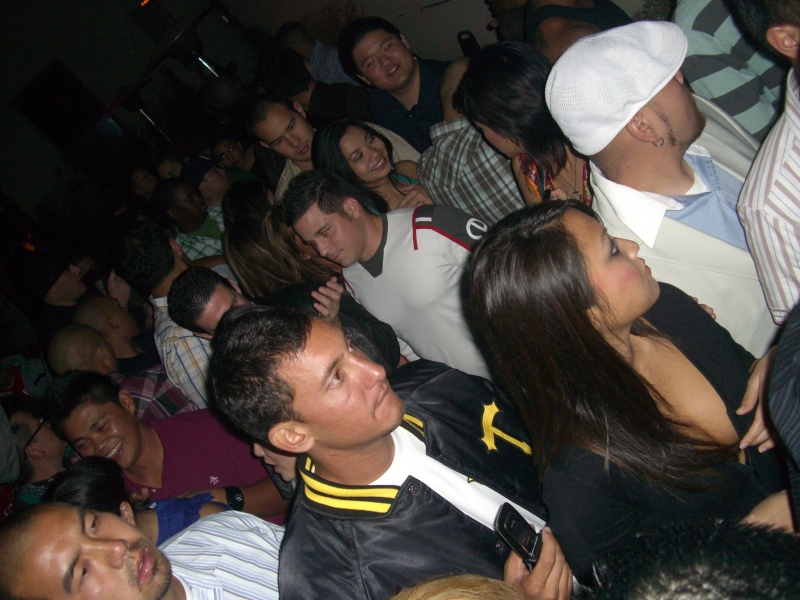 The party.
3時間近く遅れて、会場入り。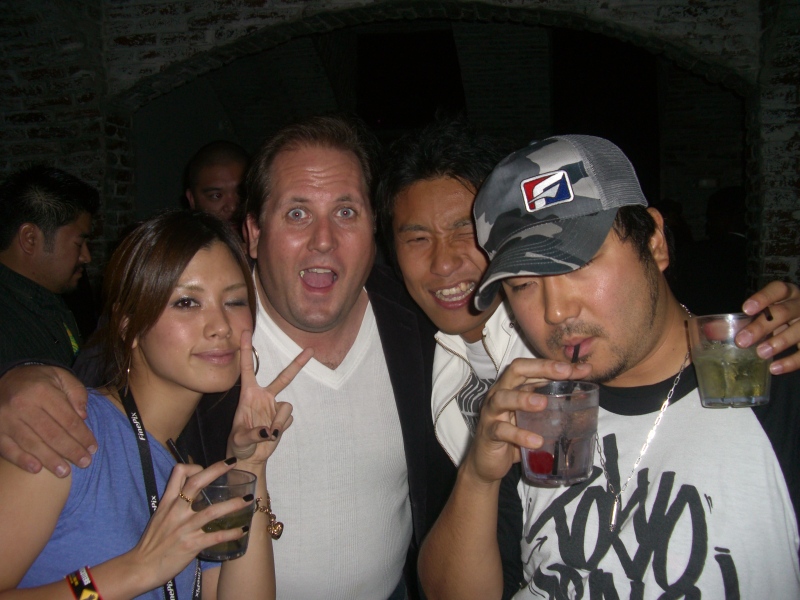 Hitomi(Graphic Designer), Joe(Nissan/Infinity), Shin(Crash), and I.
左から、ヒトミちゃん(グラフィックデザイナー)、ジョー(日産/インフィニティ)、シンくん(Crash)、ボク。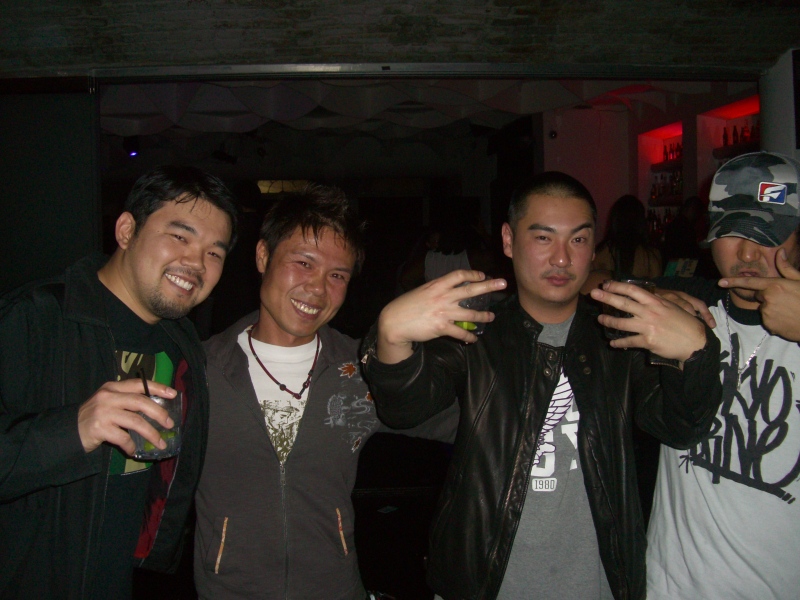 Director for TV show, D1GP top racing driver, drunk cartoonist, and entrepreneur.
Looks like a fun party to me.
TV番組ディレクター、トップレーシングドライバー、酔っ払いのカートゥーニスト、そして起業家。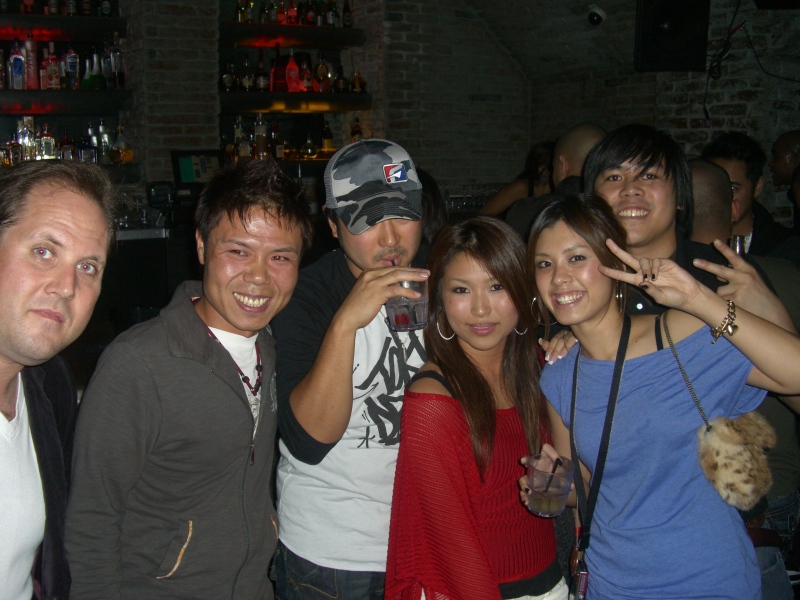 Yup, it does look like a fun party.
この中にリア・ディゾンの元カレがいます(大マヂ)。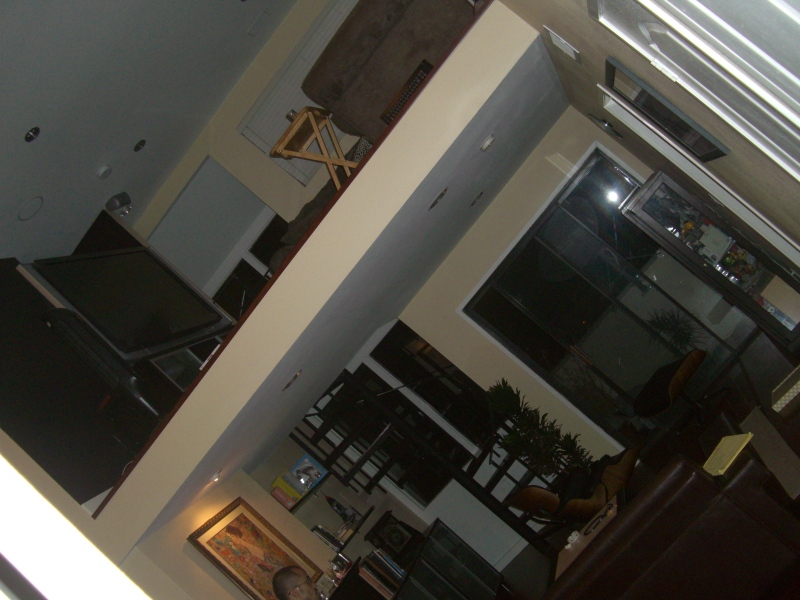 After the party, we stopped by at John's house.
"This is what the director for <American Dad> can buy" said Jansen.
True that.
某アメリカの人気番組のディレクターの家。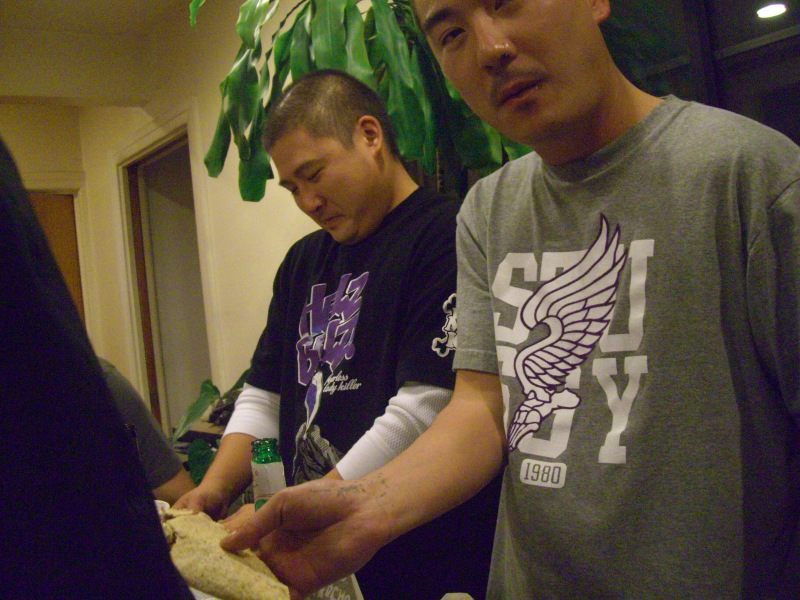 He also said "Why the fuck there's gum on my wrist...?!"
True that too.
「うぁ、なんで手首にガムがっ?!」ってジャンセン。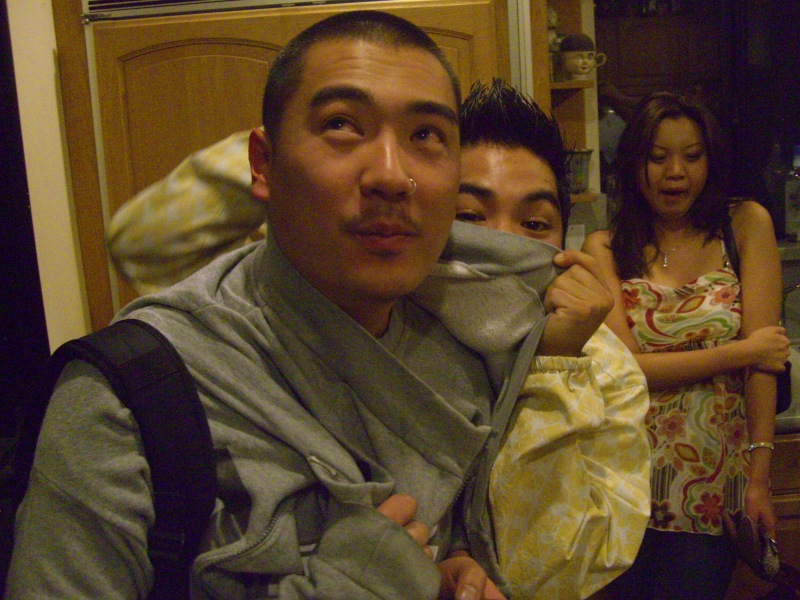 Tobin looks happy because Jansen is wearing his hoody up side down.
For real.
さらに、「もぅ帰る…」って、おいっ! パーカーが上下逆だぜぃ。
さらにさらに、先に外に出たボクがジャンセンのCLK500のドアに手をかけたら、開くでやんの! 路駐する時はちゃんど鍵をかけてください……