L.A. Day 23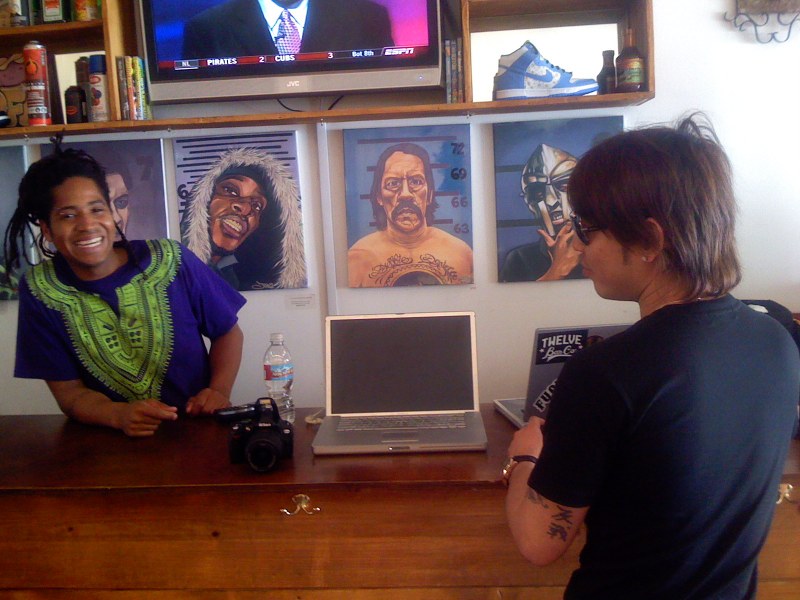 Endo wanted go check out some shops in L.A. He wanted to go the ones that I know the owners.
We went to some of the best street-wear shops L.A. has to offer.
Kai and Endo at Kingsbury.
Devilock遠藤さんとL.A.のショップ巡り。全部ボクがオーナーを知っている店で。
これは3rd stにあるKingsbury。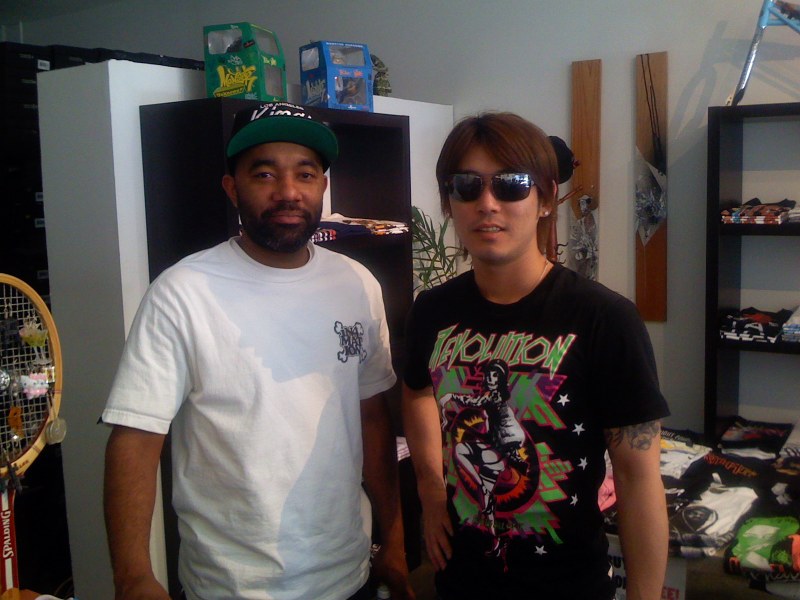 Steve and Endo at Archrival.
2nd stにあるArchrival。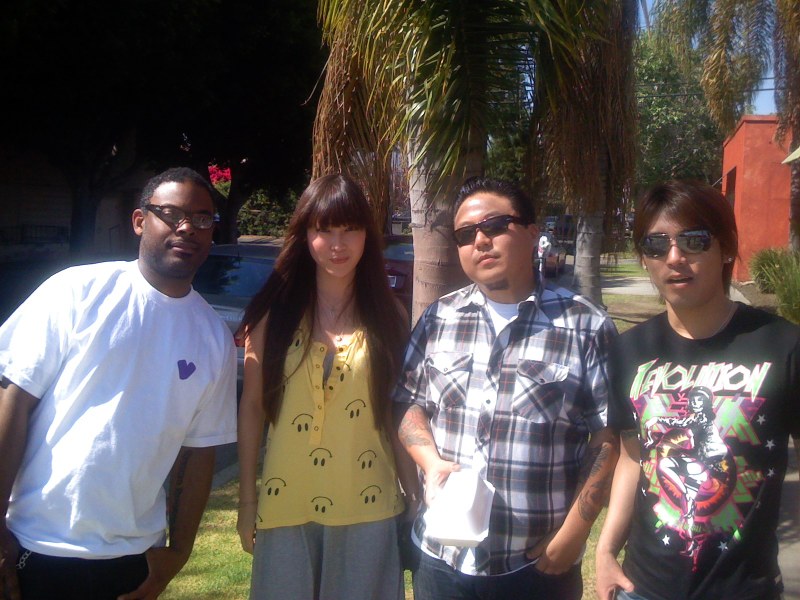 Maurice, a girl from Twelver, Eddie, and Endo on Mel Rose.
メルローズではモーリス(元Vapors magazine編集長)、Twelverの女の子、Fast Eddie'sのエディーと。
The new Barracuda. Pretty nice.
バラクーダが新しくなってた!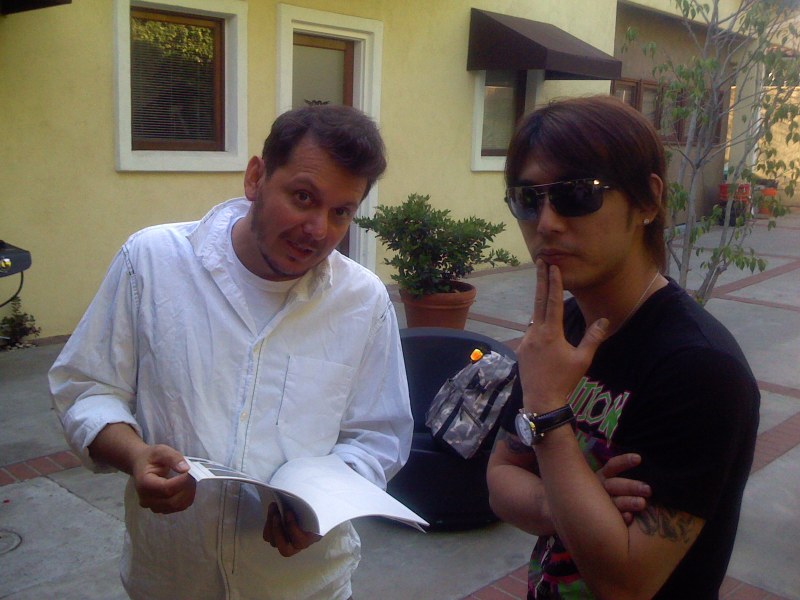 Miguel and Endo at Barracuda.
オーナーのミゲールと遠藤さん。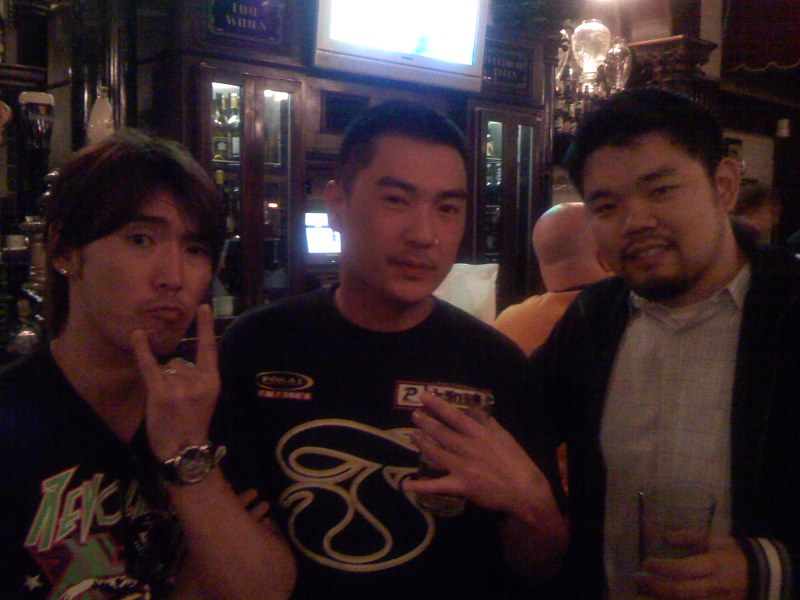 We ended up at a local bar next to my house.
As I was getting out from my car, I dropped my iPhone, and the "lower the volume button" on the side of the phone is pushed in now; so I cannot hear what the fuck people are saying now. Fucking H2 being so high from the ground and shit. If it was my S13, it's so low to the ground that my iPhone would be still ok...
Oh, and that's Endo from "Devilock", Jansen, and John from "American Dad".
Well, Endo owns a clothing brand called "Devilock" in Japan; and he must be one of the most interesting person I know.
He just sold his Ferrari 360 Spider which he purchased from a good friend of his, NIGO(the owner of BAPE); and it was all fixed up, like custom-made BAPE floor-mats to custom-made exhaust and everything. I asked him, damn man, why did you sell that car?! He said,"I still have my Aston Martin DB9, and I like DB9 better"
クルマから降りる時、iPhoneを落としてしまいました。 そして、本体横部分についているボリューム調整ボタンの『音量小』のところがへこんで、常に音量が小の状態に……。 電話先の声、聞こえにくっ!!! H2ハマーの車高が高いせいだ。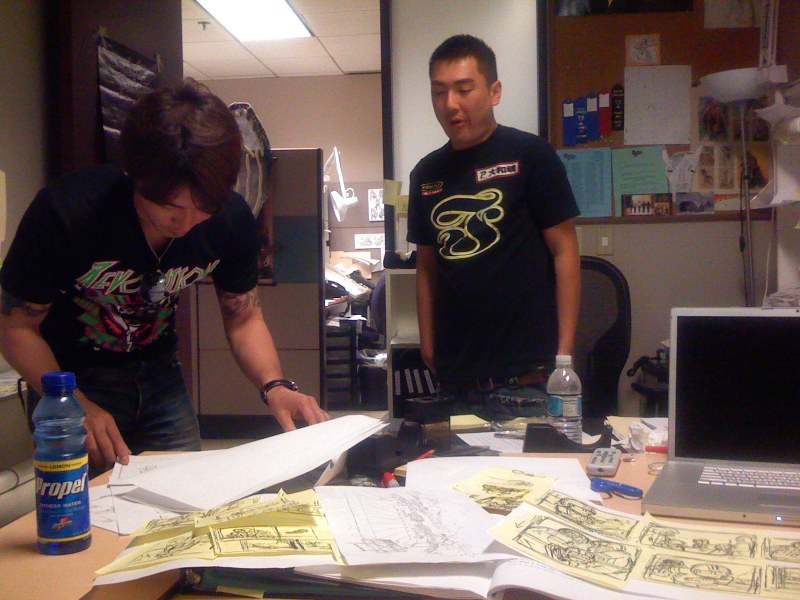 Jansen took us to the studio.
ジャンセンがスタジオで絵コンテを見せてくれました。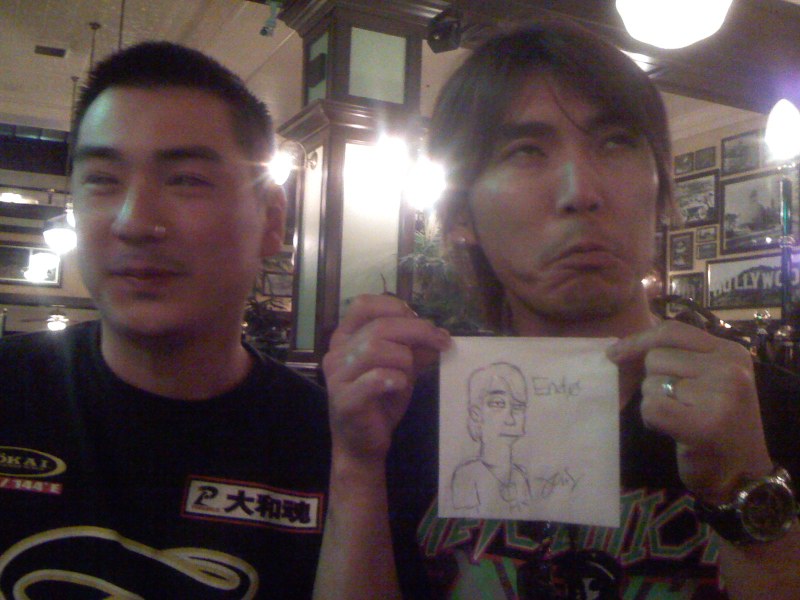 and he drew Endo.
で、シンプソンズのキャラクターで遠藤さんを描いてくれました。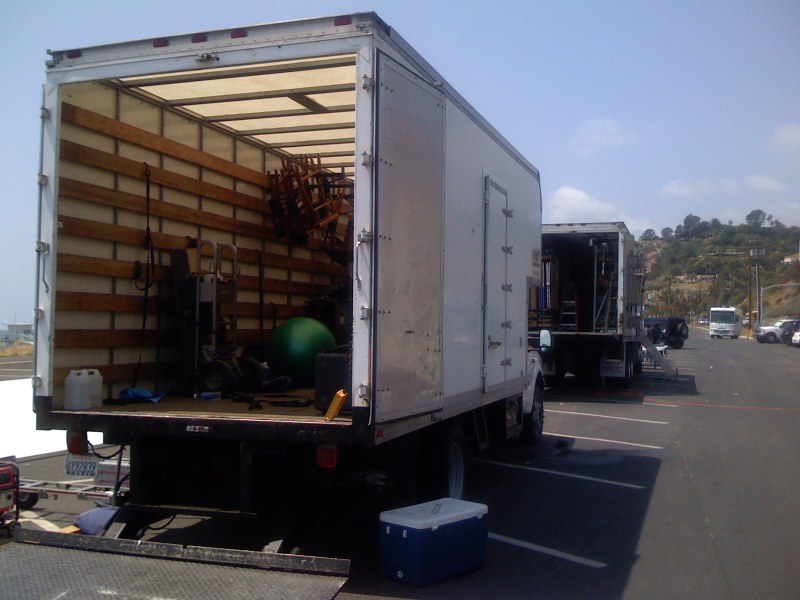 L.A. Day 24, 25, 26
We did a shoot in Santa Monica and also at a studio in Culver City.
I cannot say who we shot for what, because of the disclosure agreement.
It was a big time celebrity from Japan......
and I took him all over L.A. for shopping...... All over, I mean Santa Monica to Rancho-fuckin-Cucamonga to Long Beach to Orange and then back to Santa Monica all over.
誰を、何で、かは書けませんが、サンタモニカのビーチとカルバーシティのスタジオにて撮影。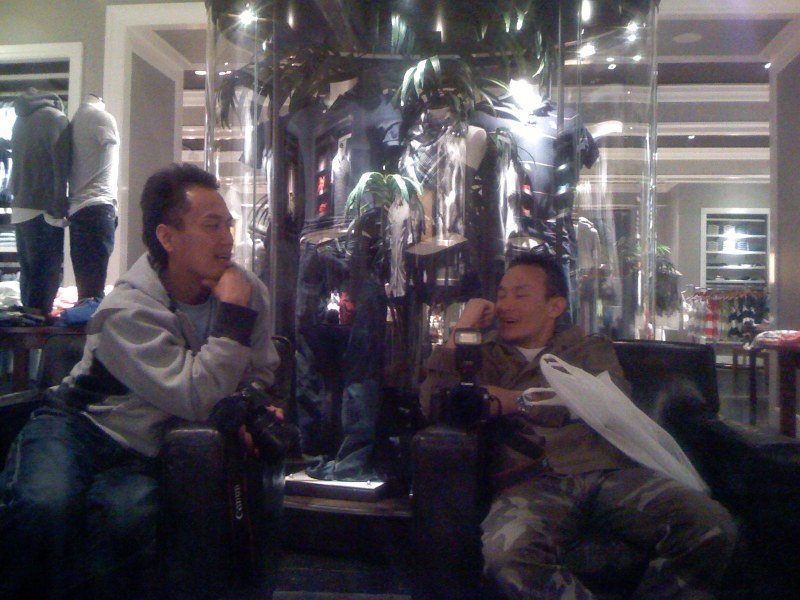 L.A. Day 27, 28, 29
Kage (former editor in cheif of Daytona magazine, now editor in cheif of Block magazine, and one of my best friends in Tokyo) and Go (editor in cheif of Daytona magazine) was here in LA, so I took them around for 3 days.
カゲさんとゴーさんが来ていたので、3日間楽しく遊びました。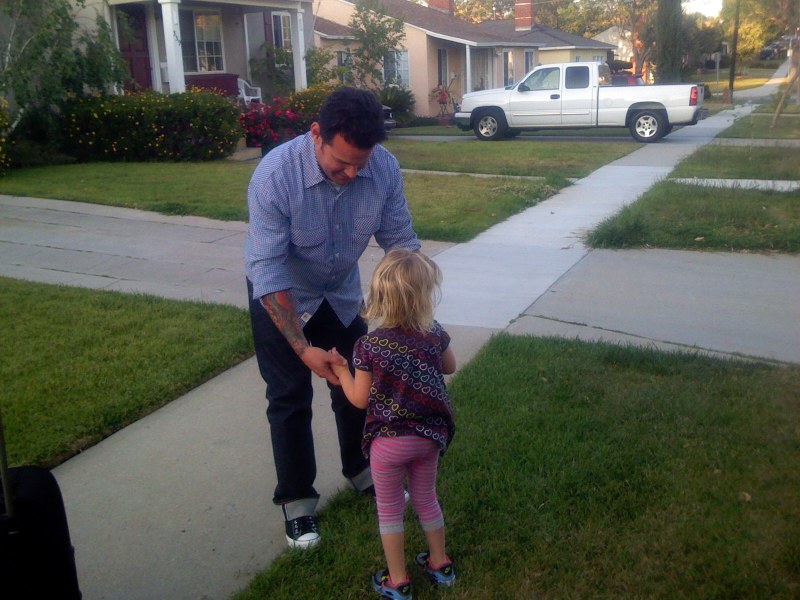 L.A. Day 30
I took Kage and Go to LAX, went home, did laundry, took a nap at the bench in the park, and went to a photoshoot on my friend Bart from 530 Media Lab.
While we were doing the shoot, I came up with this title "New American Hero". I dont know if the editor's gonna buy it, but I like this title. The man is like a hero, he has an iteresting job, he works hard, and loves spending time with his family. What more can you ask?
カゲさんとゴーさんをLAXまで送り、バートの撮影へ。 
疲れに疲れて、10PMには倒れこむように就寝。 起きたらテレビもパソコンも電気もついたまま、ご飯も食べたままでした……。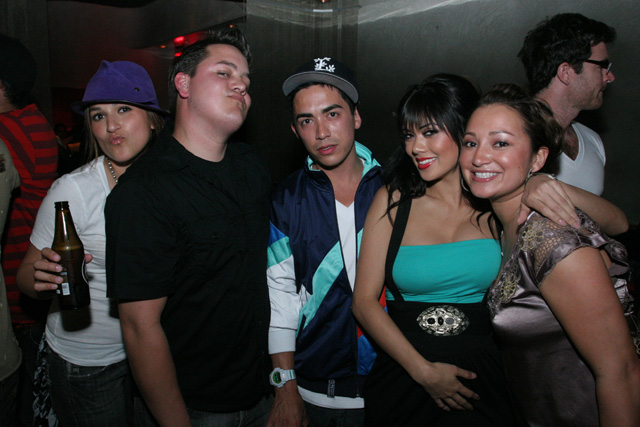 and Happy b-day to Keven at LRG. Looks like he had a fun b-day party.
LRGのKevenが26歳の誕生日だったよう。 おめでとう。