Devilock Friday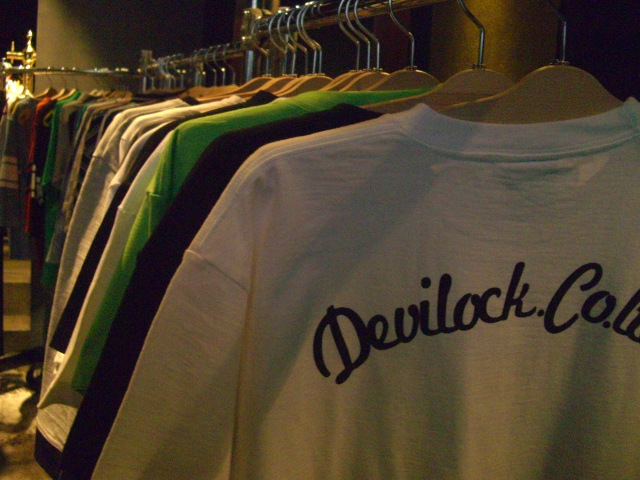 I went to Devilock 09 Summer Exhibition on Friday.
いつもお世話になっている<Devilock>さんの展示会へ。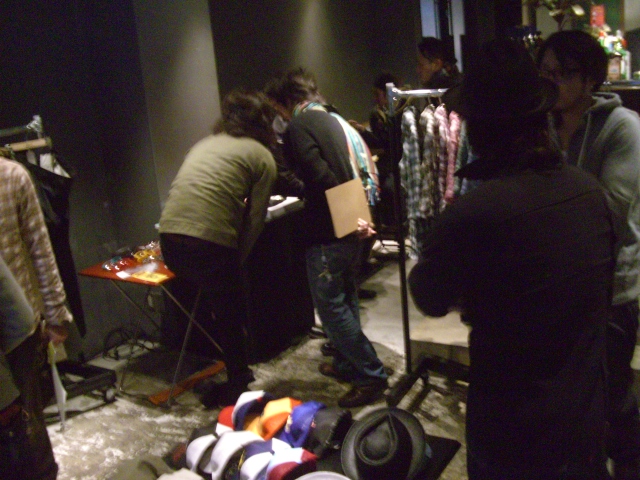 Lots of people showed up, including some industy celebries.
知った人も……。 いつも通り盛況でした。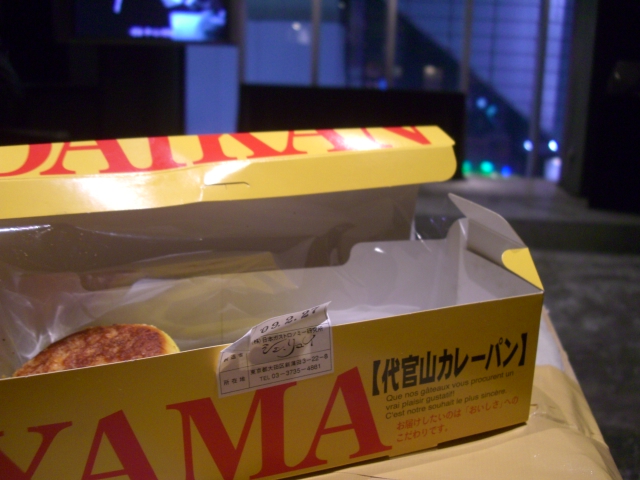 I had a meeting set up after, but it got canceled... so I was chilling there for hours... eating Daikanyama Curry Bread, drinking beer...
で、展示会の後に入っていた打ち合わせが中止になったため、長居を……。 カレーパン食べたり、飲んだり……。 遠藤さん、ありがとうございましたっ!!!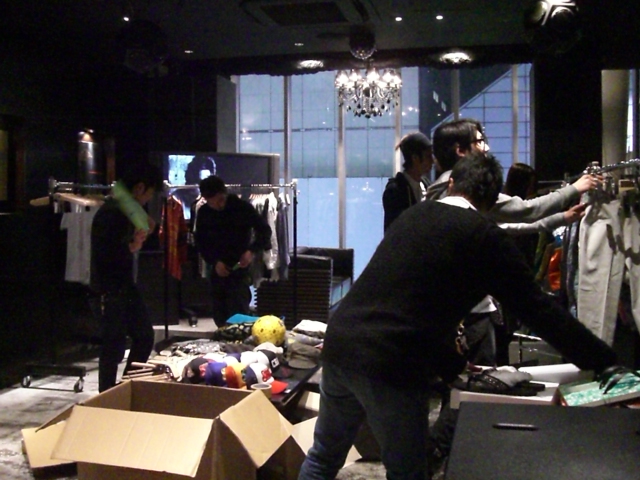 So I was chilling with Endo(the owner) and Eisuke(Devilock PR and weekend DJ) til the exhibition end...
結局撤収まで……。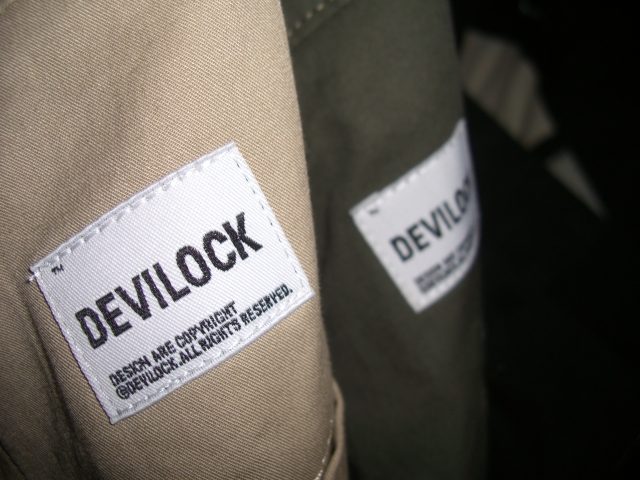 It was a good collection. I got some stuff.
デリバリーが楽しみです。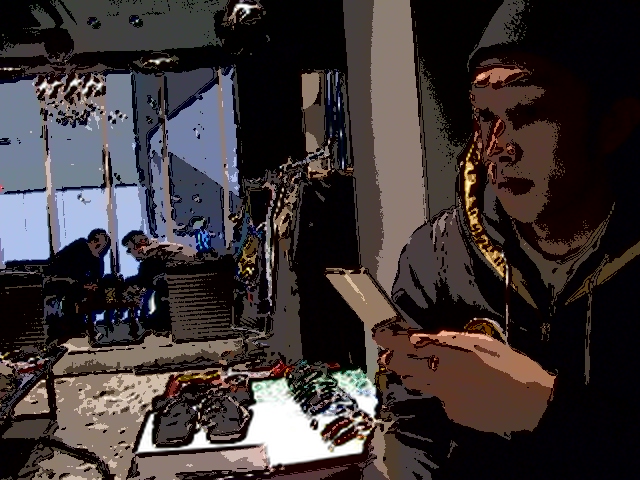 Then Eisuke's like, hey lets go drink, so ofcouse I said yes.
で、展示会終って、エーちゃん(Devilockプレス)が、飲み行きますか?と。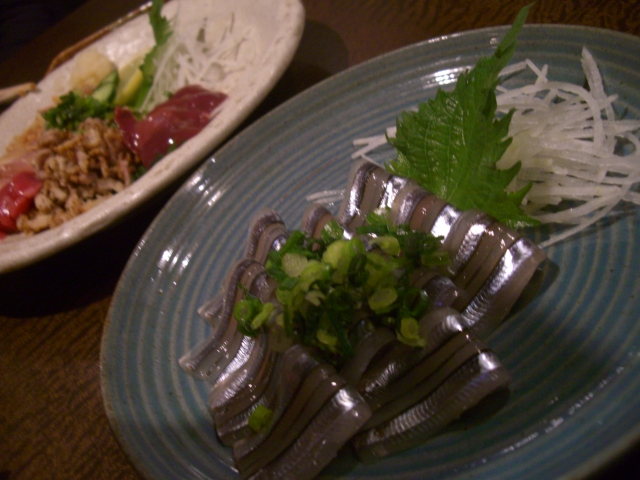 We went to eat and drink at this Kagoshima restaurant in Jingu-Mae.
神宮前にある、客の9割は鹿児島出身っていう、鹿児島料理屋へ。 キビナゴやら全部生で食べる肉やら……。 絶品でした。 もちろん酒も……。 UC、Nude Jewelry前のカフェ、そしてココ。 すでに三軒で飲んでる……。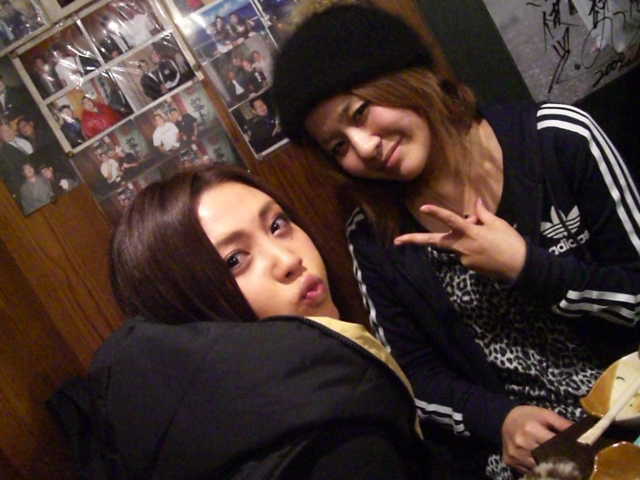 Aya(former <Fine Magazine> model) and Yoppy.
つい最近Fineモデルを卒業したばかりのAyaちゃんとYoppy。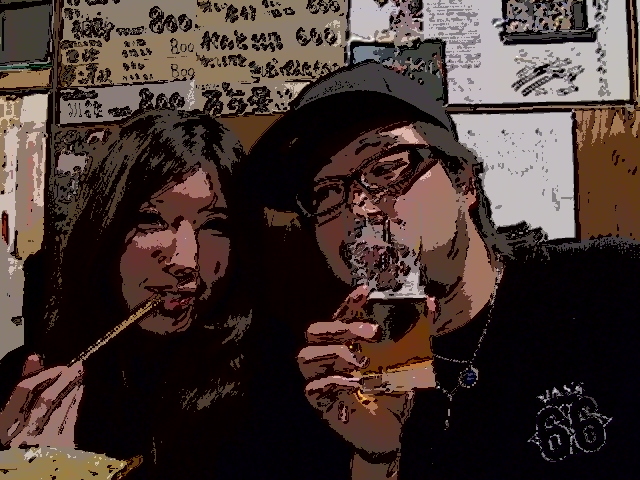 Queenie.
クイーニー。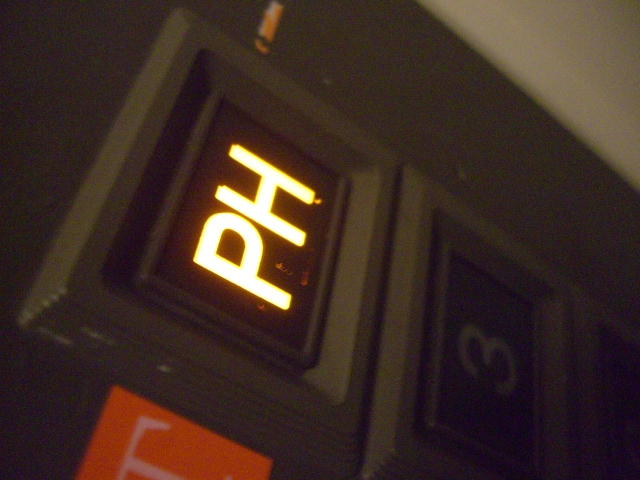 Then we went to some hiden bar in Naka-Meguro.
四軒目は中目黒にある隠れ家バー。 ペントハウスへ……。
We were there from like mid night to 3AM(Gabe and 2 friends showed up later too).
12AM頃から3AM頃までいたのかな? 途中でゲイブも合流して。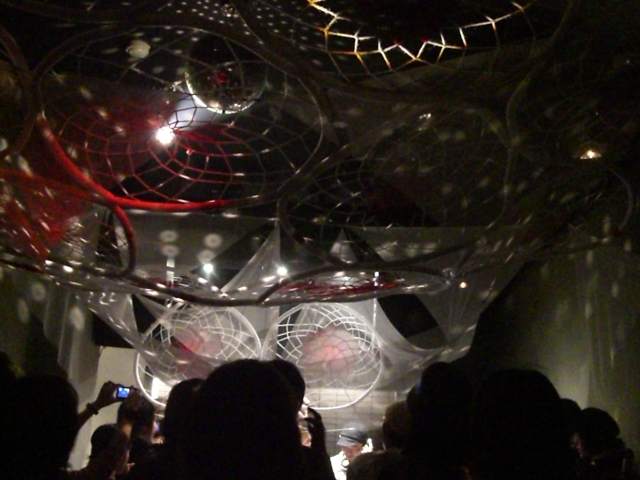 Then we went to a club in Naka-Me.
五軒目は同じく中目にあるクラブ。 客層、若っ!!! しかも、なんかジプシー(だか何だかわかんねーけど)ぽいカッコした若者多いし。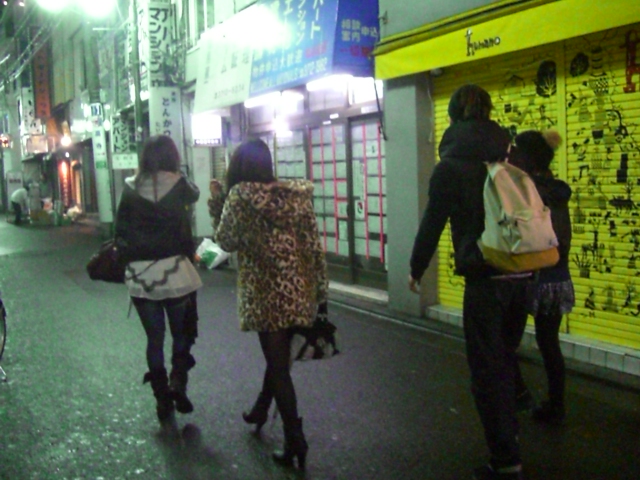 4:30 or 5AM...
朝。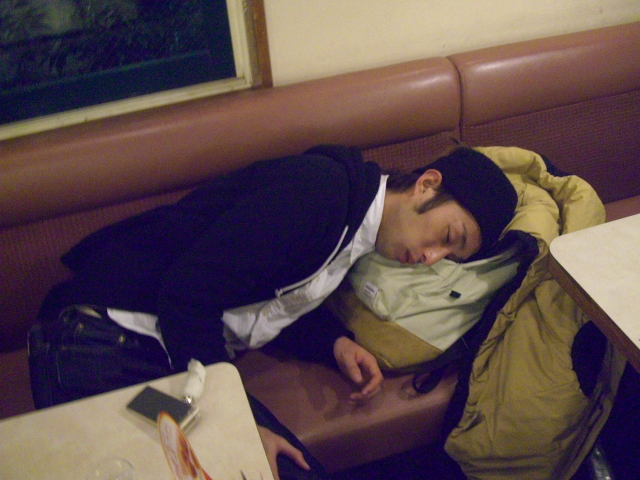 Good night Eisuke.
六軒目で終了したエーちゃん。 お疲れ様でした。
Tete Homme/Rip Slyme Saturday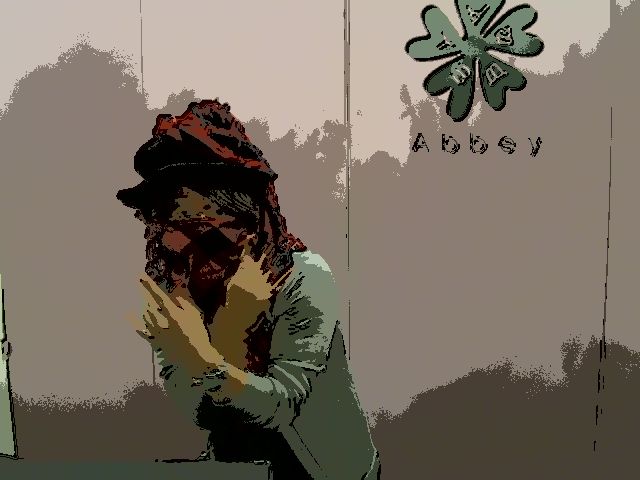 I finally went to cut my hair on Saturday.
Mr. Matsunaga is a skilled stylist, successful business man and nicest guy I know. No wonder many people trust him and come and see him. Thank you Matsunaga san! oh and thank you Kitazume san too.
土曜はまず松永さんに会うため表参道Abbeyさんへ。
松永さんは超一流スタイリストであり、成功した経営者でもあり、さらに最高にナイスな性格の持ち主。 だから松永さんを慕って、彼の周りにはたくさんの素晴らしい人が集まってくるように思います。  いつもありがとうございますっ! きたづめさんもありがとうございました!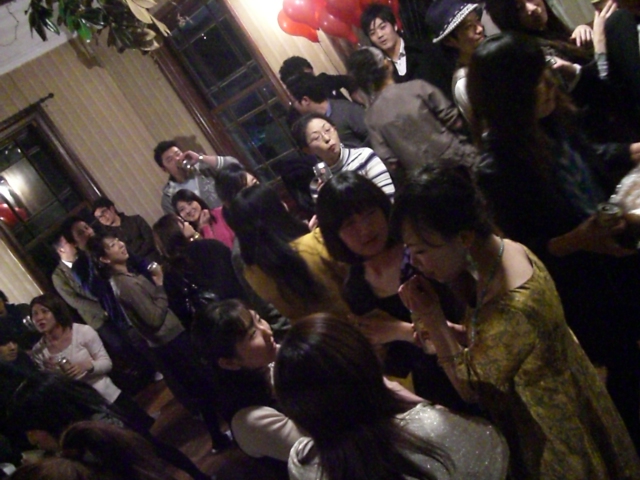 Then I went to my friend Hata's b-day party in Shinagawa. This building was built by a doctor who used to see the general back in Samurai days(General Tokugawa Era). Crazy, huh.
で、次は代官山TETE HOMMEプレス、ハタちゃんのバースデーパーティーへ。
この建物は、将軍・徳川慶喜の医師をしていた木村春東が社交場として建てたものだとか。 さすがハタちゃん、ロケーション選びからして普通じゃない。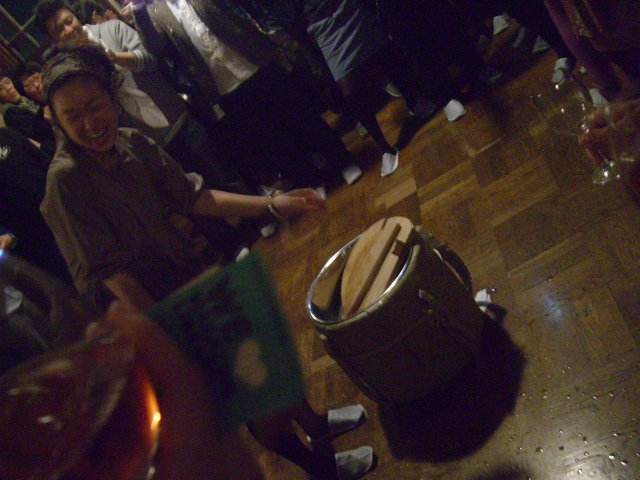 A lot of alchole... a lot... All you can drink sparkling, red and white wine, Japanese sake, beer, soju, some dangerous original drinks...
そして、たくさんのアルコールが……。
スパークリング、赤、白、酒、ビール、焼酎……。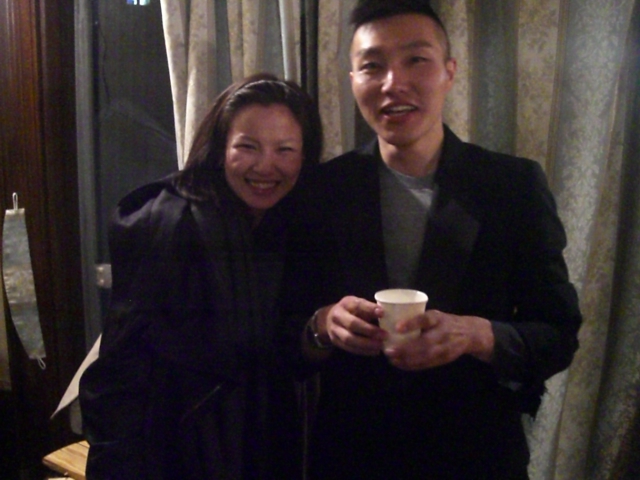 Some snaps.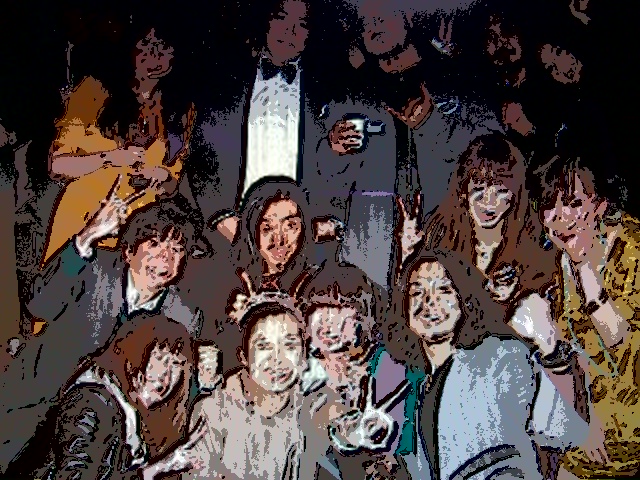 Some snaps...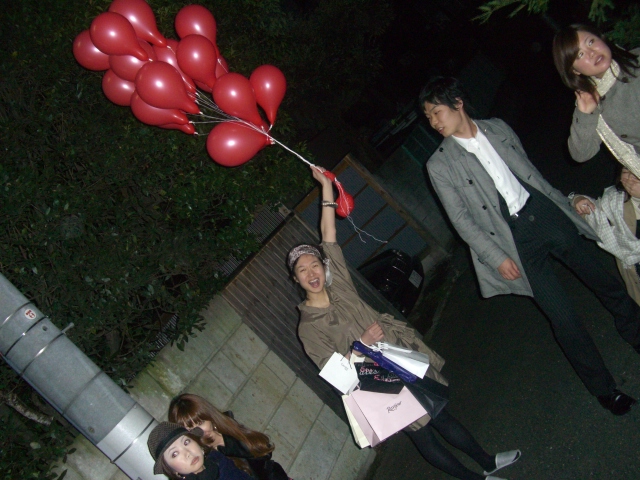 Happy b-day Hata chan!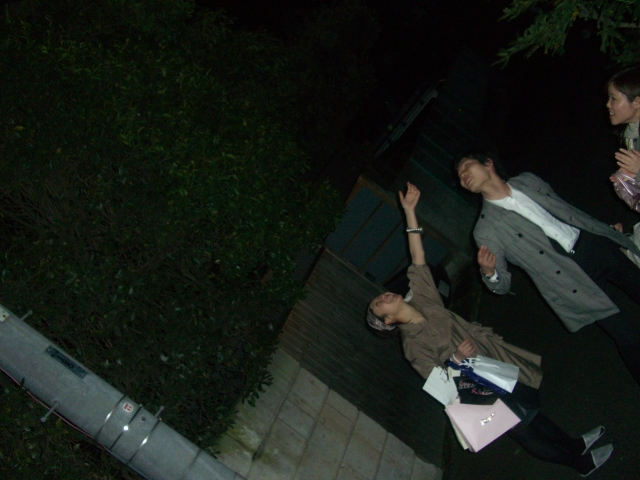 Where'd the balloons go?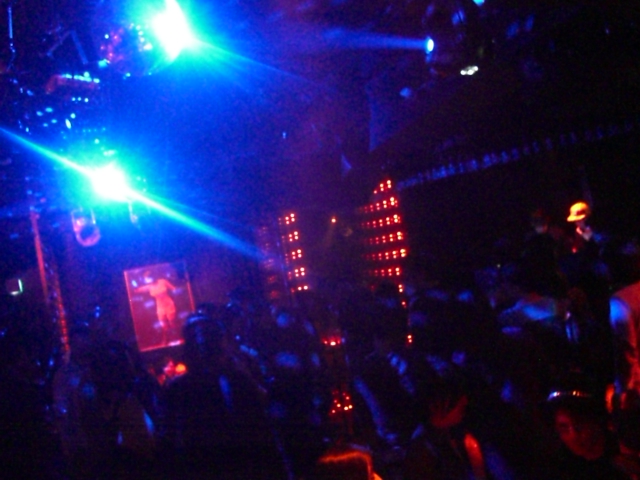 Then I went to Le Baron to meet up Bryan, Gabe, Stephany and Keita, cause I need some mo' drink and Fumiya (Rip Slyme) was spinning.
で、次はブライアン、ステファニー、ゲイブリエル、そしてケイタくんに会うため、青山ルバロンへ。 そう、なんつってもDJ Fumiya(Rip Slyme)がスピンだからねっ! この時点で12AM頃から。 飲み始めて5,6時間経過だからね、一人で移動するのば危ないぜ、と……。  移動中もなんか大学生らやイギリスから来たっていう高校の英語教師と話してたり。 誰なんだっつー。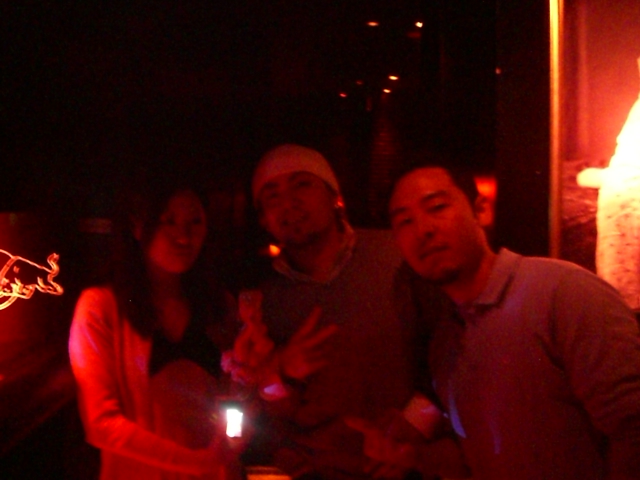 Steph, Gave and B.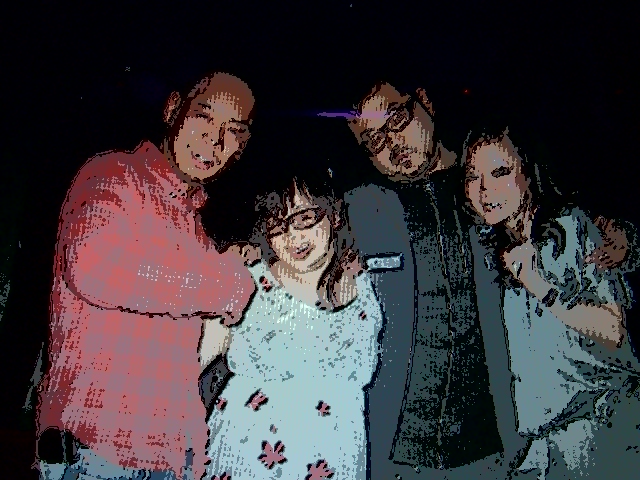 Mai, Keita, I and Mai's homegirl.
Thanks Keita!
ケータくん、ありがとうございましたっ!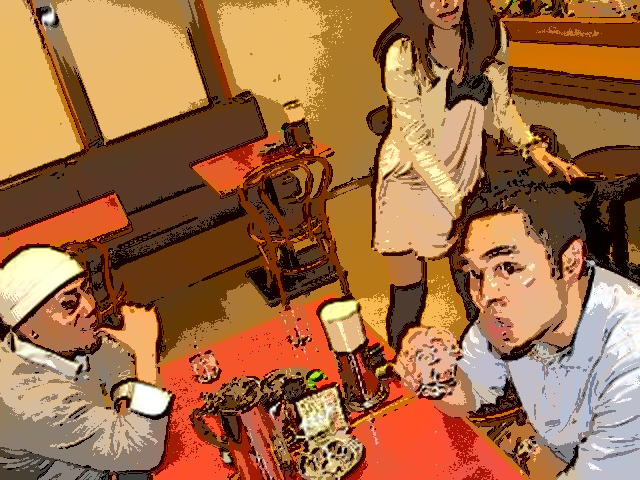 This Chinese restaurant in Shibuya is awesome!!! The food taste hella good and they open 24 hours!!! Thank you Sacocci for telling me about this place, so we could go get some tantan-men with half fried rice at 5 in the morning.
この定食屋、超ヤバいっ! 教えてくれたSacocciに感謝! 朝の5時にタンタン麺&半チャーハンセット。 ヤバいです。